Standard urethane round rod stock sizes available in stock
Custom polyurethane round rod stock available on request
Standard durometer available from 40A to 65D
Standard colors: red, natural and black (other colors upon request)
High resistance to abrasion and impact
Resistant to many chemical compounds
Oil and solvent resistant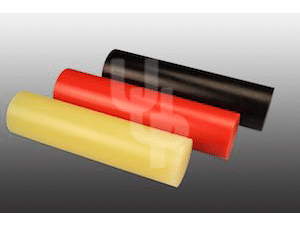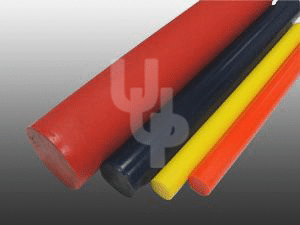 Just like all of our other precision molded urethane products, Universal Urethane manufactures the highest-quality urethane rods to meet our customer's needs. With our machines and tooling, Universal Urethane casts solid rods as small as ⅜" to 18" in diameter and lengths from 12" to 96". We offer a quick delivery with competitive pricing.
For special size requirements, Universal Urethane, has the capability to custom mold a rod to your exact size specifications, with custom designed and built tooling. Polyurethane rods are versatile products well suited for machining into custom items in low volume products such as bumpers, stops and bushings. Specialized formulations allow for ease in grinding or machining.
Other available formulations include high rebound urethane with low compression set characteristics, high-temperature formulations, and abrasion-resistance. We offer a large tooling selection with little to no setup costs on most orders.
Urethane Characteristics
Broad hardness ranging from 40 shore A to 90 shore A. Red, natural, and black are the standard and other colors are available upon request. Urethane is abrasion and cut resistant. Urethane is chemical and oil resistant. Urethane is machinable and resilient .Urethane has a lower tooling cost, has a high load bearing capacity and has elastic memory.
Standard Colors
While natural is our
primary standard color, black, red and orange are also available
, other colors are available upon request but will have an up charge (green, blue and yellow).
Availability
We maintain a large inventory of common lengths, widths and colors and can manufacture custom molded rods in the size, compound, and color that you request typically being produced
shipped in 2-3 business days
(call for rush orders).
Pricing Details
Call for quantity discount
Round, Square & Rectangular Bars
Length: 12", 24", 36" and 48" (+1/2-0)
O.D.: +/-2% or +/-.015" whichever is greater
Stocked Inventory Dimension Tolerances
These tolerances cover all stocked products except where noted. Please advise factory if a closer tolerance is required.
Hardness Range
Our standard compound range from
40 Shore "A" to 90 Shore "A" standard stock size
, 65 Shore "D" durometer available upon request but will come with an up charge.
Shipping
Above pricing does not include shipping
Why Use Polyurethane?

A resilient, tough material, polyurethane can outperform rubber and steel for abrasion resistance and can be injection molded, to any shape. Polyurethanes have exceptional damping abilities to control shock and lessen noise and vibration in the most arduous conditions.

Outstanding high wear abrasion resistance

Good low temperature flexibility and impact resistance

Low compression set

Good hydrolytic stability

High compressive strength

Low gas and vapour permeability, relatively high moisture vapour transmission rates

Low extractable levels

Ability to be painted without the use of primers

High resistance to oils, greases, oxygen and ozone
Polyurethane Round Rod Stock
Urethane rods are a versatile product well suited for machining into custom items for various applications. We offer custom formulated compounds,custom sizes and lengths. Standard colors are red, natural, and black with other colors available upon request.
Urethane Stock's rods are made of tough, crack-resistant, and abrasion-resistant polyurethane, which lasts significantly longer than conventional rubbers and plastics. We provide custom sizes, lengths, hardness, and colors with little or no tooling costs. By producing our products in custom sizes.
Advantages Of Polyurethane Rod
Polyurethane Rod is often used as a replacement for rubber components and provides an obvious upgrade over the traditional material. Polyurethane has a much improved resistance to wear and can out last other materials by as much as four times.
Another advantage is the performance during load and compression, Polyurethane will out perform rubber which will often permanently deform much sooner resulting in the associated components, often vehicle suspension parts becoming loose and causing lack of control and often expensive damage. Its resistance to ageing or perishing, rubber will often degrade over sometimes a short period of time, but this can often be accelerated in UV exposure and the contact with oils and fuels.
Polyurethane Rod is also much more resistant to cutting with sharp edges as well as much more impact resistant.
Urethane rod stock can be used as an inexpensive substitute for prototypes. This material can be easily and inexpensively machined to make small amount of bushings, washers, spacers, and bumpers. This avoids having to invest in a costly mold for small volume items.
Advantages Of Polyurethane
Polyurethane is a unique material that offers the elasticity of rubber combined with the toughness and durability of metal. Because urethane is available in a very broad hardness range, it allows the engineer to replace rubber, plastic, and metal with the ultimate in abrasion resistance and physical properties. Polyurethane can reduce plant maintenance and OEM product cost. Many applications using this ultra-tough material have cut down-time, maintenance time, and cost of parts to a fraction of the previous figures. The following are other advantages polyurethane has to offer:
Urethanes have better abrasion and tear resistance than rubbers, while offering higher load bearing capacity.
Compared to plastics, urethanes offer superior impact resistance, while offering excellent wear properties and elastic memory.
Urethanes have replaced metals in sleeve bearings, wear plates, sprockets, rollers, and various other parts, with benefits such as weight reduction, noise abatement, and wear improvements being realized.
What Durometer Should I Use?

There are times when researching for a project, you need to know the hardness of the material you are wanting to use. Below we have included a chart with durometers of different products that range from soft to extra hard.
If you have any questions, please give us a call at (419)-693-7400 and one of our technical sales people can assist you.